Inspiring Your Greatest You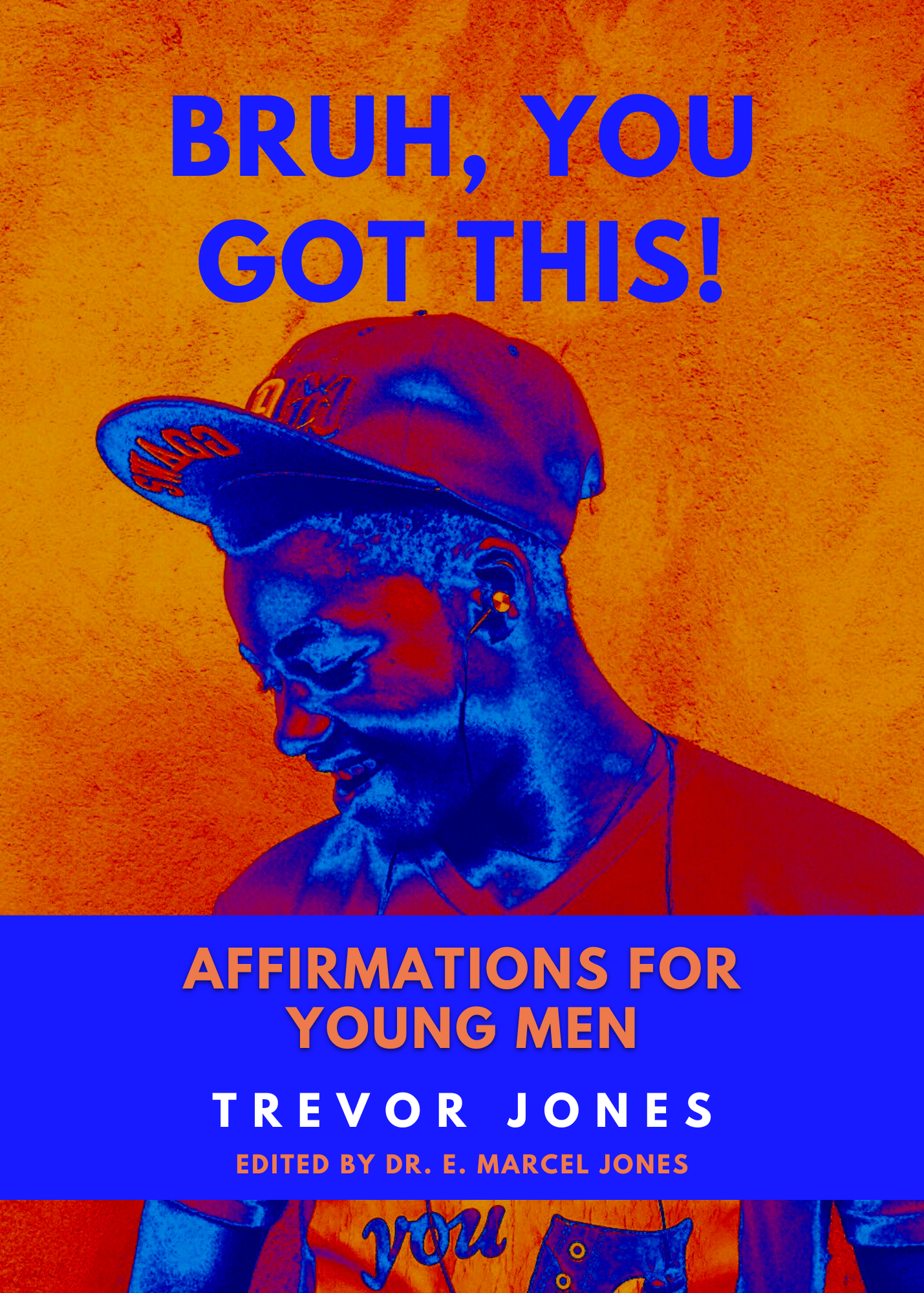 Bruh, You Got This!
Affirmations For Young Men
Bruh, You Got This was written by a teenage boy for teenage boys — to engage them in healthy choices, provide them with positive words to shape their lives, and inspire them to live their best life.  The book is packed with affirmations and weekly exercises for the mind, body, and soul.  The book engages young men and provides them with words of affirmation that can shape them and inspire them to live their best life!
The author, Trevor Jones, is a young, budding author with a bright future in writing. BRUH, YOU GOT THIS is his first major writing project, but it could not have arrived at a better time than now.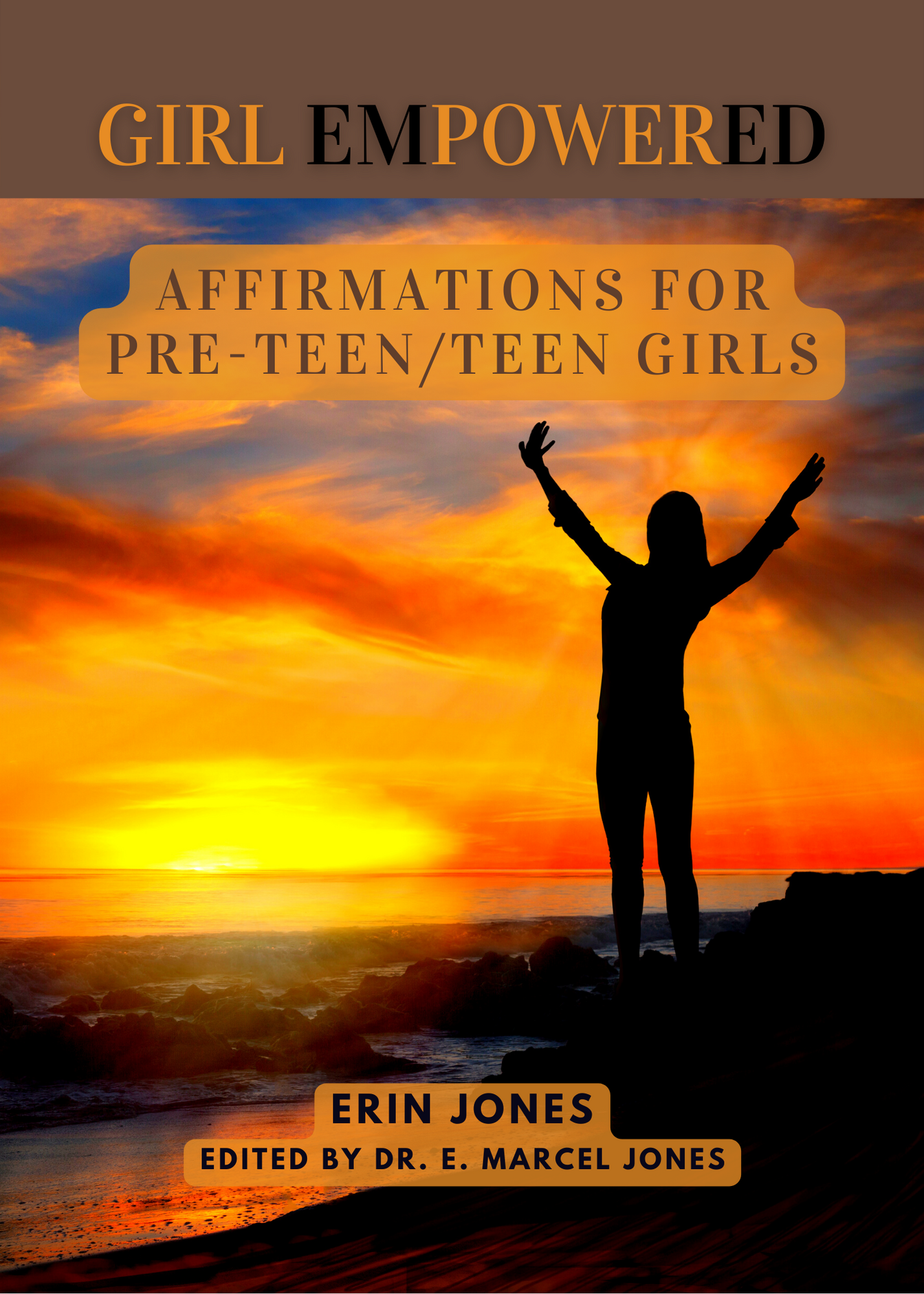 Welcome Verse One Enterprises' newest and youngest author!  Erin Jones is a rising influencer in her generation of young authors. Although GIRL EMPOWERED is this teenager's first major writing project, this budding author knows the power of words and uses them to her fullest advantage. Girl Empowered was written to engage every pre-teen/teen girl, provide them with positive words to shape their lives, and inspire countless young women to live their best lives.
In her spare time, Erin enjoys cooking (especially baking), playing with her pet dog, hanging out with friends, and competitive cheerleading. Her mother, father, and brother are her biggest supporters.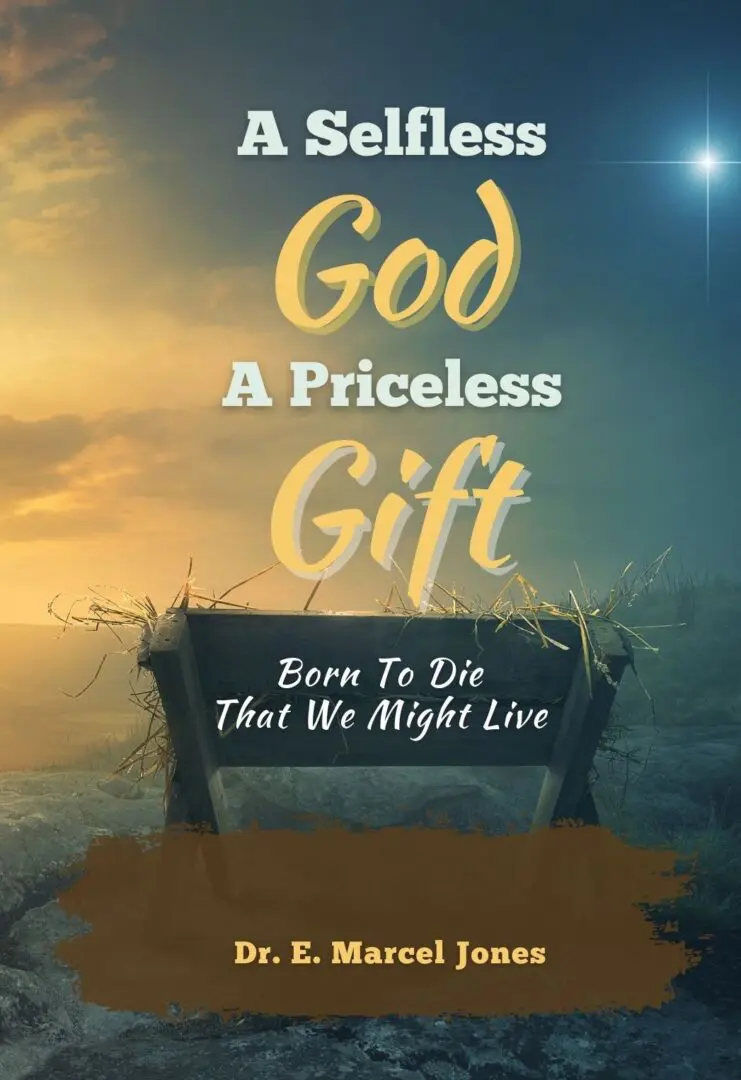 A Selfless God A Priceless Gift
Born To Die That We Might Live
A Selfless God A Priceless Gift explores the profound theological concept of selflessness and sacrifice through the lens of the Almighty God. The book delves into the idea that a benevolent God, motivated by unconditional love for humanity, manifested in human form with the ultimate purpose of sacrificing Himself for the salvation of all.
Pastor E. Marcel navigates the life of Jesus Christ, portraying his birth, ministry, and eventual crucifixion as the embodiment of His selfless act. Jesus offers himself as a priceless gift so that mankind could experience rebirth and eternal life. The narrative culminates in a compelling call to action, prompting readers to apply the principles of selflessness to their daily lives, fostering a deeper sense of purpose and connection with the world around them.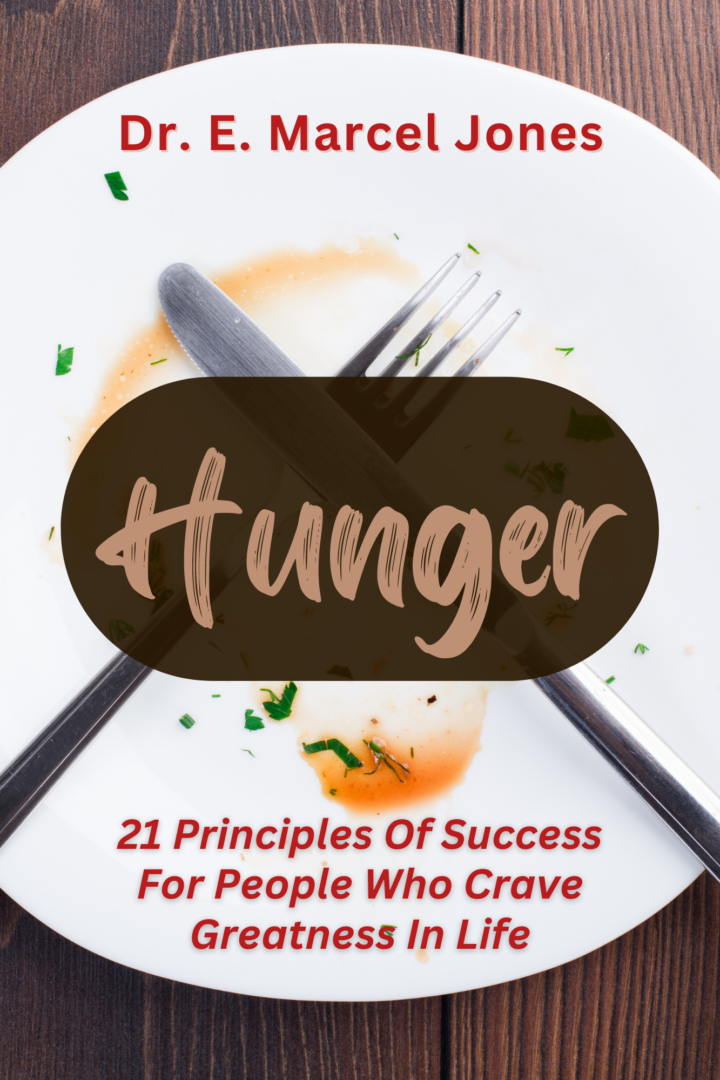 HUNGER
21 Principles Of Success For People Who Crave Greatness In Life
Finally, an inspirational guide that dares to motivate readers to reach their greatest potential and make their mark in this world. HUNGER: 21 Principles Of Success For People Who Crave Greatness In Lifeis an easy read that highlights dozens of simple principles that can help readers develop the skills they need to become successful.
This powerful collection of principles will provide readers with the courage to face their fears, overcome their obstacles, and ultimately achieve the success they so deeply desire. It's a practical and actionable guide that will help every individual uncover and maximize their strengths and make their dreams a reality.
Whether you're a budding entrepreneur, ambitious student, or the average person who craves the opportunity to rise above mediocrity to achieve greatness, HUNGERwill feed your desire for success and serve as an excellent toolkit for attaining the life and career you want.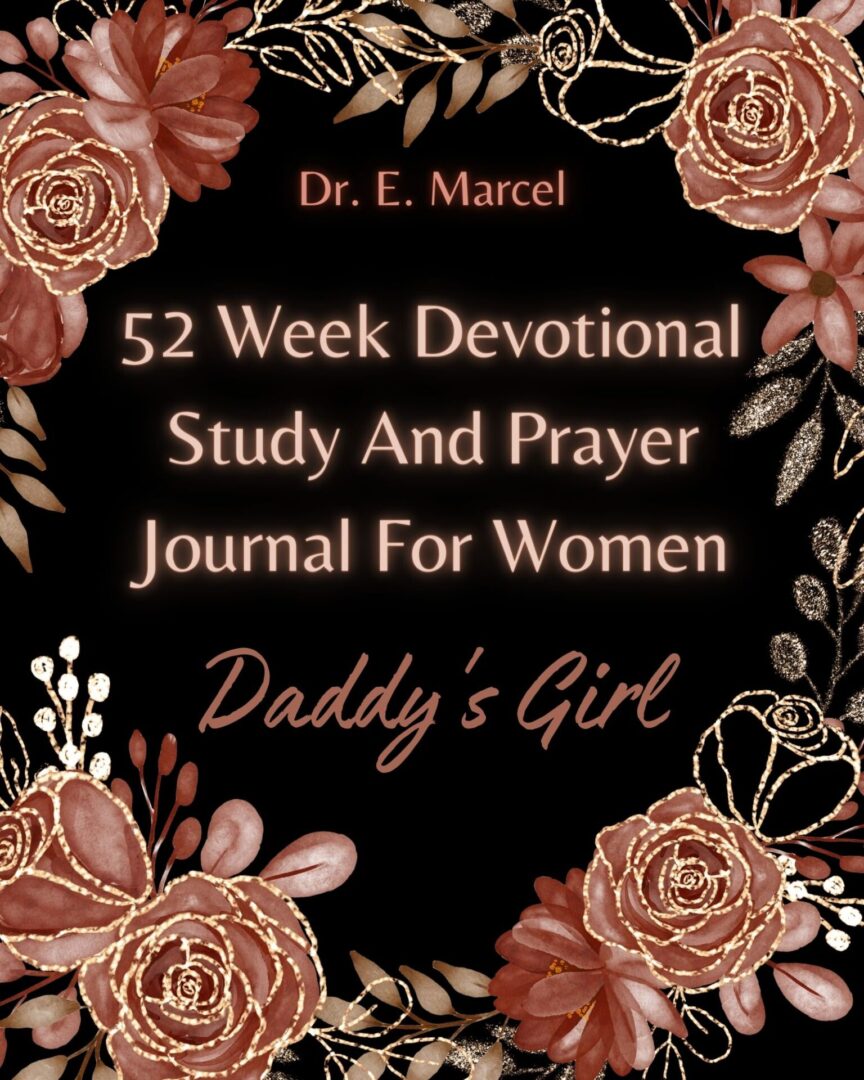 Daddy's Girl
52 Week Devotional Study and Prayer Journal For Women
Inspired by his relationship with his daughter, Dr. E. Marcel has developed 52 intimate devotions that encourage women to set aside weekly Daddy-Daughter time with God.

Daddy's Girl is easy to follow, contains practical insight for daily living, and provides plenty of space for recording an entire year of thoughts and prayers.

Begin your week with the living Word of God
One devotional per week featuring a variety of topics including:
•Trust •Restoration •Forgiveness •Prayer life •Divine Protection •Anxiety •Hope •Perseverance •Resilience •Fear •Courage

Think of ways to apply the truth of God's Word to your daily walk
Record your personal prayers for co-workers, family members, for your city and nation.  Plenty of space to record your most intimate prayer requests.  Document your prayers as God answers them.  Enjoy your Daddy-Daughter time with God.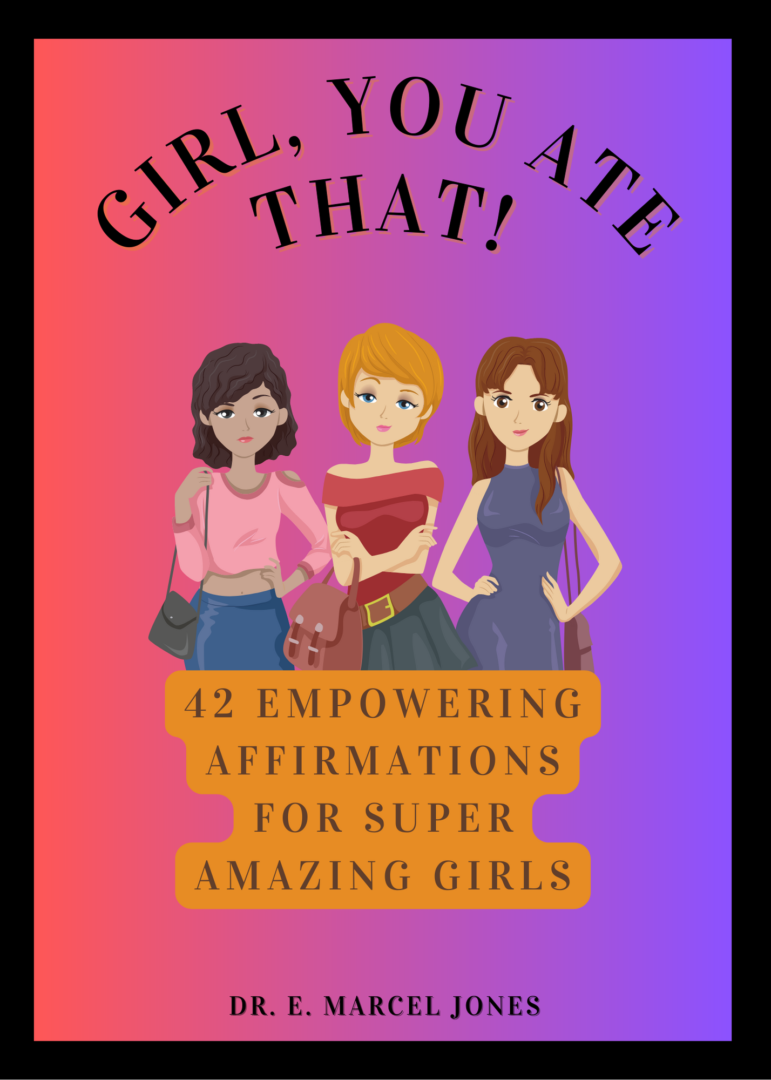 "GIRL, YOU ATE THAT!"
42 Empowering Affirmations For Super Amazing Girls
It's the greatest compliment of this generation!  "Girl, you ate that performance; Girl, you ate that dress; Girl, you ate that speech!"  In other words, you nailed it and we loved every minute of it.  Imagine a book of 42 affirmations that your amazing daughter can reference every morning before she walks into the school building.  Written in collaboration with my teen daughter, Girl, You Ate That will restore the confidence and self-love your princess needs!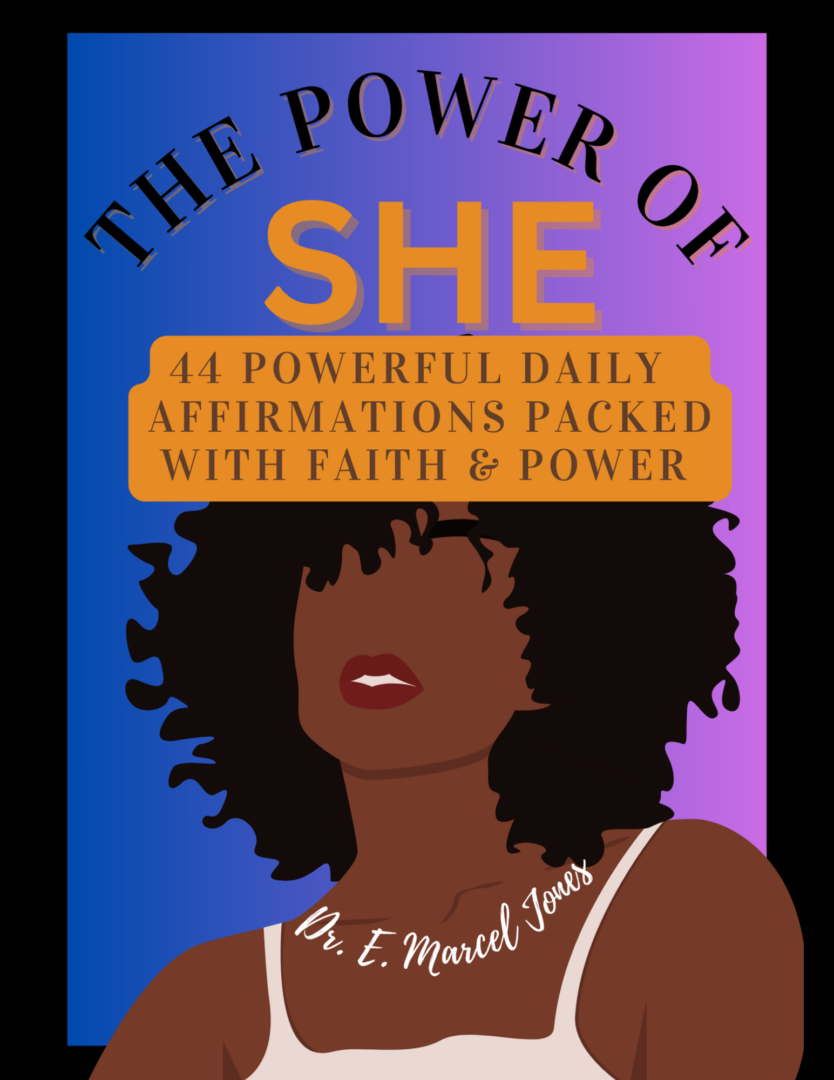 The POWER of SHE
44 Powerful Daily Affirmations Packed With Faith and Power
Do you understand the power that lies within you? Have you tapped into the potential for greatness that lies dormant within your mind, body, and soul? The Power Of She offers 44 powerful affirmations for the woman seeking more out of life. Also included after each affirmation is a Mental Health Tracker to help women monitor their stress levels, sleep patterns, and emotional swings. Tap into your inner strength and become a stronger SHE!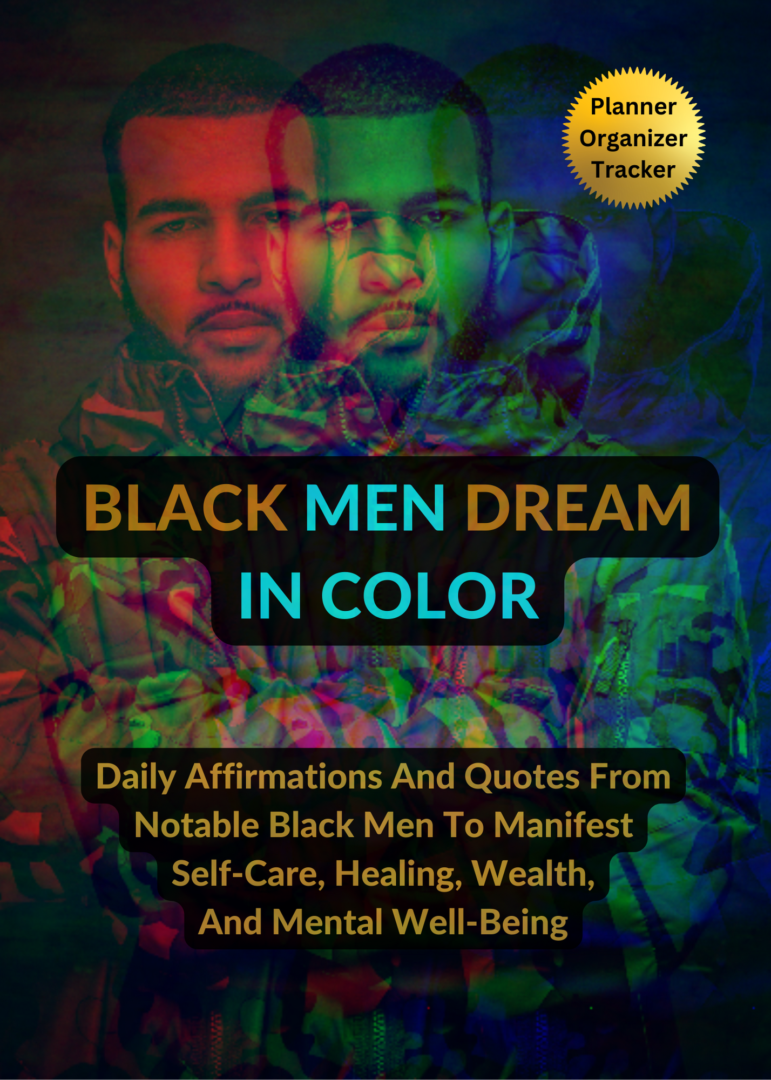 Black Men Dream In Color
Planner, Organizer, & Tracker
Men of color also dream in color. Find peace in this shadow work journey to a better version of YOU and collect all those ideas, plans, and inspiration in one place. BLACK MEN DREAM IN COLOR is a planner, organizer, and tracker that inspires men of color to greatness! 100 pages of daily affirmations and quotes from notable black men that will manifest self-care, healing, wealth, and mental well-being.
A Black Girl's S.W.A.G.
Self-Worth & Gratitude Journey
Some refer to it as Brown Girl Magic, the Melanin Effect, or the Favor of God. We simply call it S.W.A.G. - Self-Worth And Gratitude. It's the journey that black girls pursue throughout their lifetime - a pursuit of healing, self-identity, and self-worth. Regardless to her tone, height, weight, or attitude – she's got that SWAG! Enjoy your journey of monthly goal setting, weekly planning, and daily inspiration. Get your SWAG ON, Sister!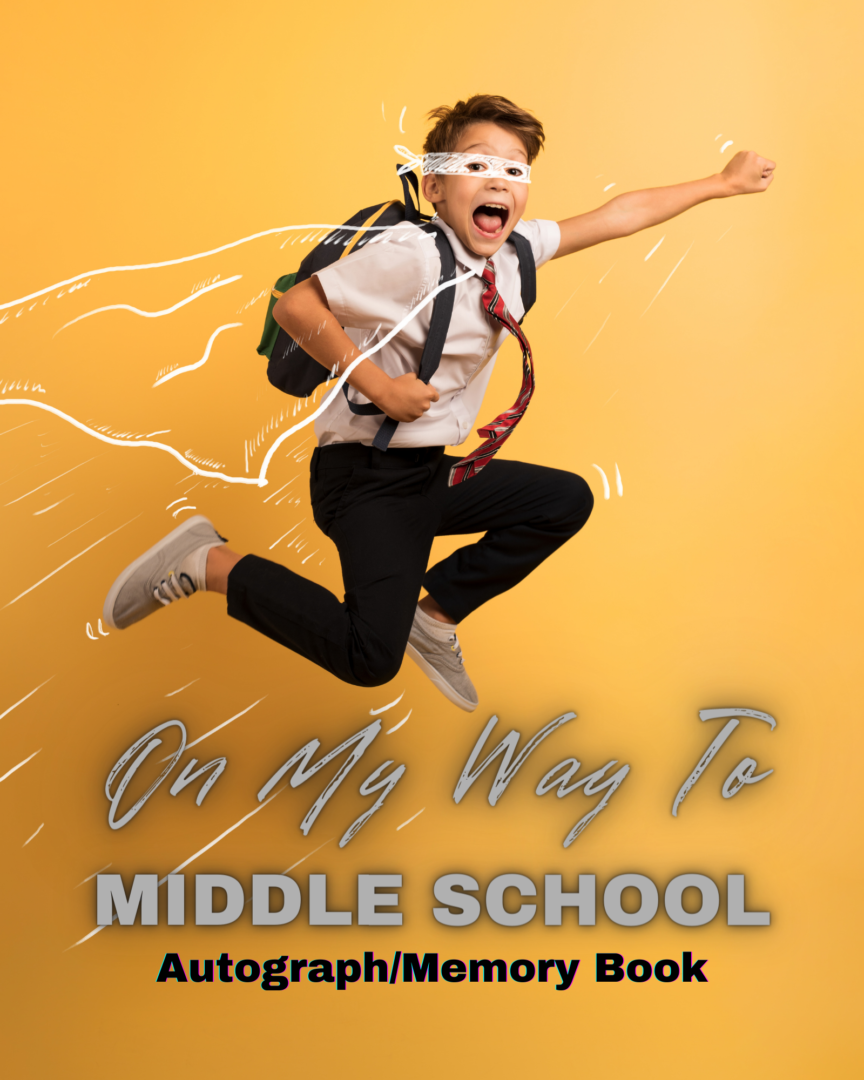 On My Way To Middle School
Autograph/Memory Book & Keepsake
On My Way To Middle School is Verse One Enterprises' keepsake and end-of-the-year memory album with plenty of space for autographs, photos, and special messages from friends and teachers to the graduate. Makes a great promotional gift for the rising middle schooler looking for something more personal than a yearbook.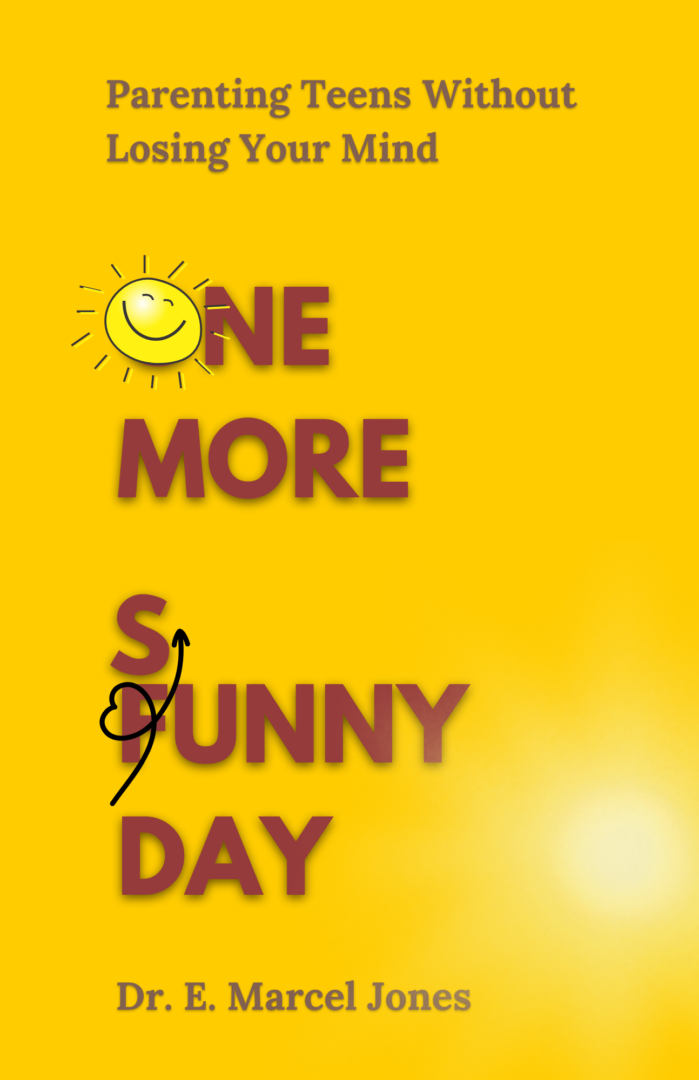 ONE MORE SUNNY/FUNNY DAY
Parenting Teens Without Losing Your Mind
Parenting teenagers is perhaps the most daunting task any parent can face. Dr. E. Marcel and his wife are the "sunny" parents of two teenagers and know first hand the challenges that come with rearing adolescents. One More Sunny/Funny Day is an informative and inspiring look at how teens view their parents and how parents perceive their teens. Whether you live with teens or work with them, by the end of the book, you will have laughed, cried, and shouted, "AMEN!"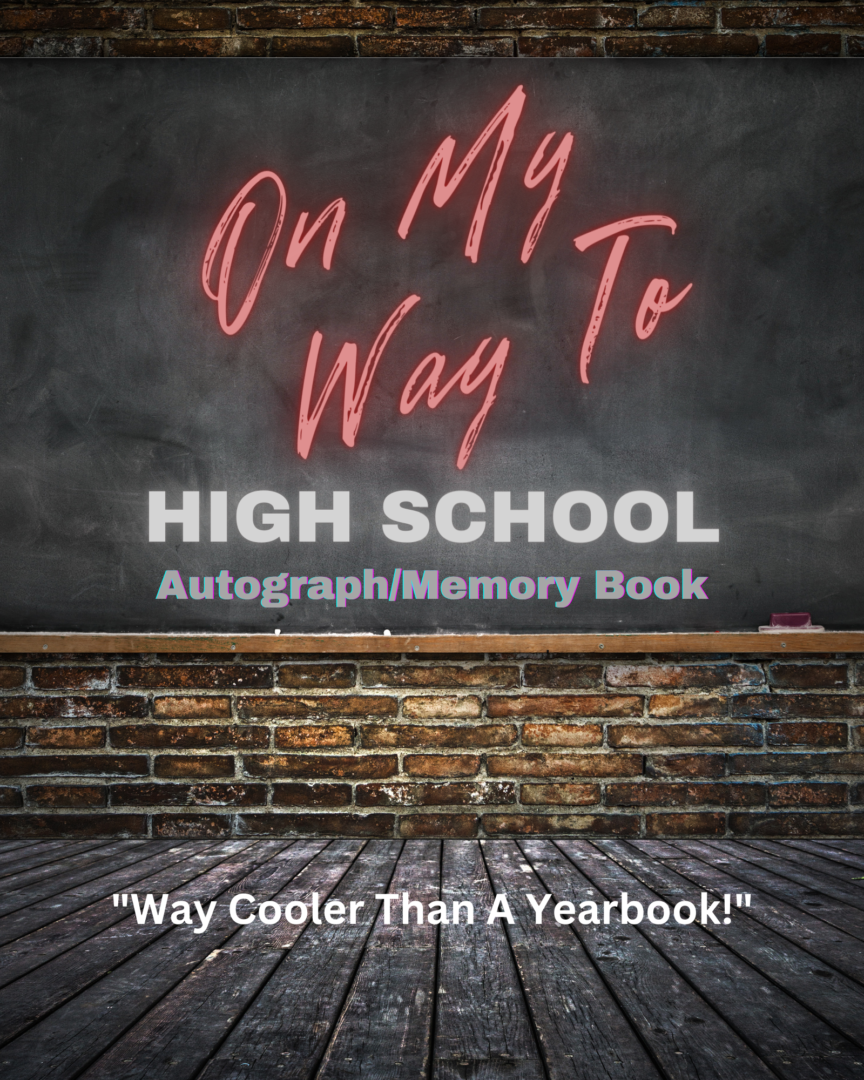 On My Way To High School
Autograph/Memory Book & Keepsake
On My Way To High School is Verse One Enterprises' keepsake and end-of-the-year memory album with plenty of space for autographs, photos, and special messages from friends and teachers. Not to mention, it's way better than a yearbook and much more personal. Makes a great promotional gift for the middle schooler on his or her way to the big campus!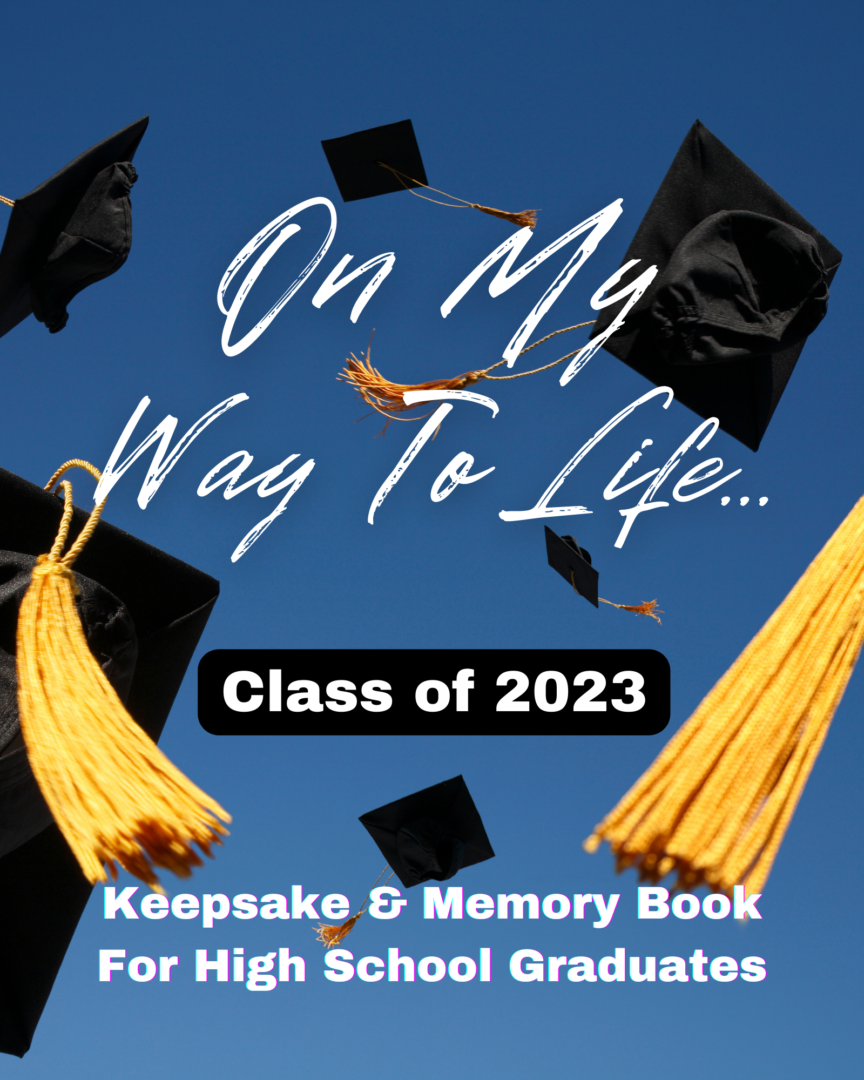 On My Way To Life
Keepsake And Memory Book For High School Graduates
Before your seniors embark upon their journey in life, be sure you provide them this keepsake memento to collect their memories of high school. Over 100 pages of space for classmates' signatures and warm thoughts, teachers' messages, and self-reflection.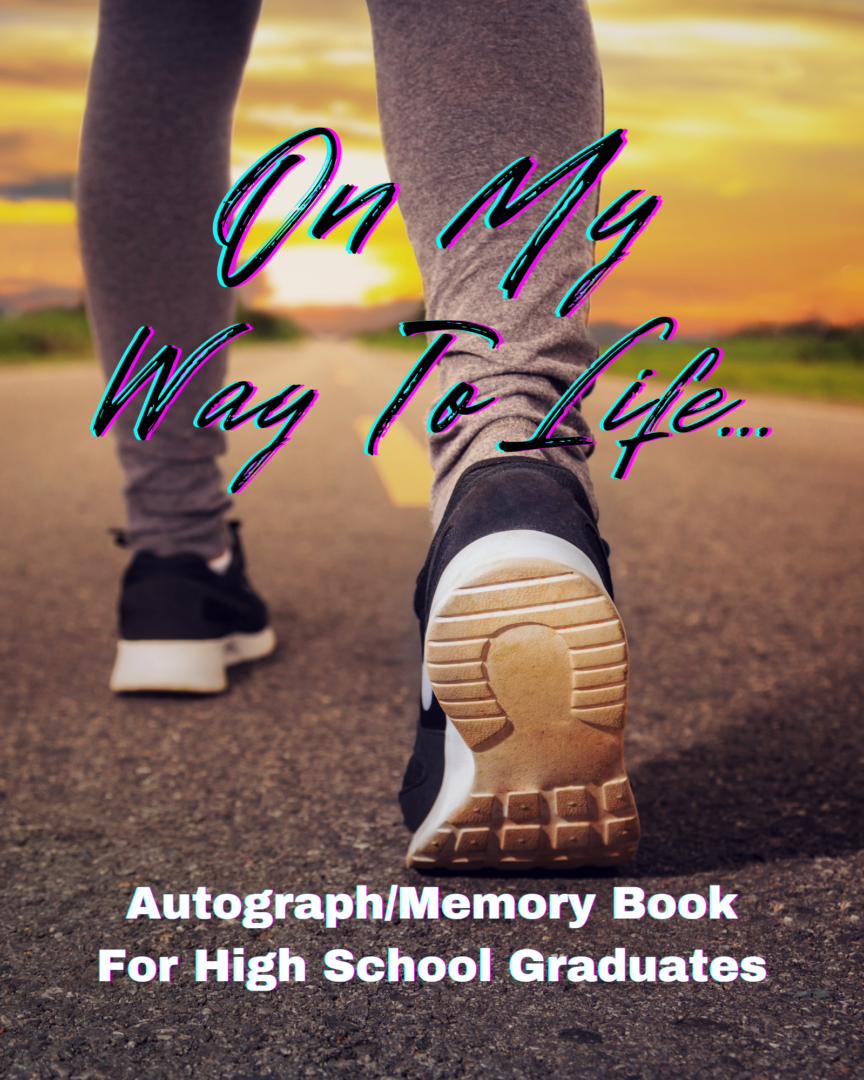 On My Way To Life
Autograph/Memory Book & Keepsake
On My Way To Life is a befitting tribute to the memories of the past and the journey ahead for that special high school senior that's graduating this year!  This keepsake and memory album with plenty of space for autographs, photos, and special messages from friends and teachers for the high school graduate to reflect on for years to come. This is way better than a yearbook and much more personal. On My Way To Life is a great graduation gift for the cost-conscious senior.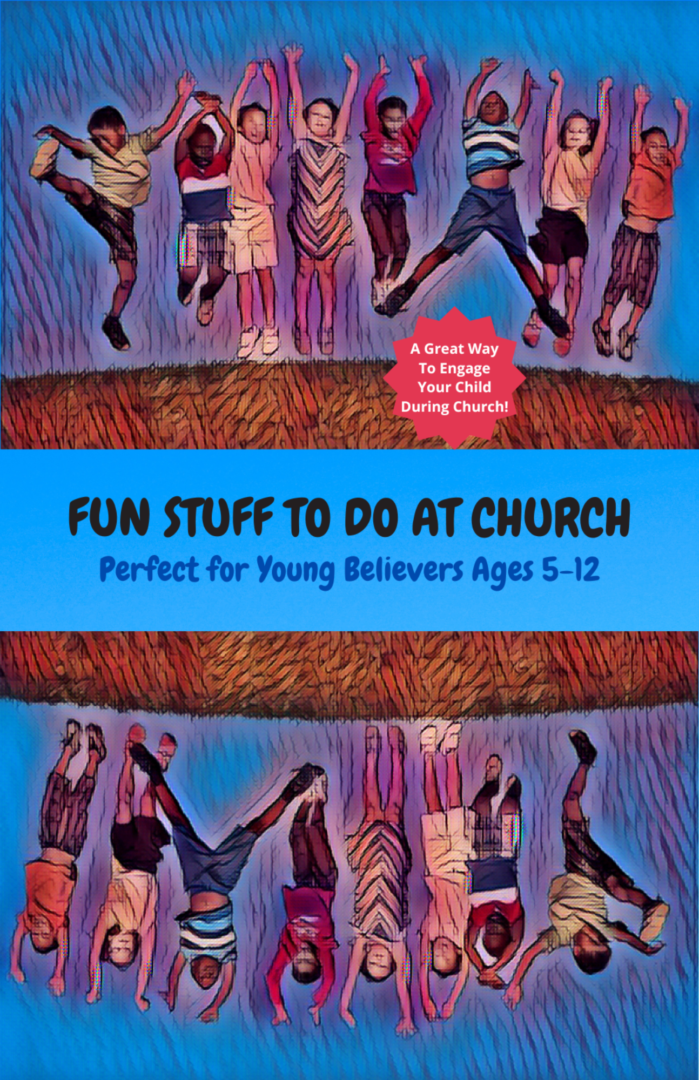 Fun Stuff To Do At Church
Perfect For Young Believers Ages 5-12
Help your child develop their faith in a creative way.  Fun Things To Do At Church is an interactive book filled with puzzles, word searches, and space for drawing and taking notes during church service.  Your child will look at their faith in a new and refreshing way as they dive into each weekly activity.  Over 100 pages of enjoyment and even a section to record the Pastor's sermon title and scripture each week.  Invest in your child's spiritual growth, today.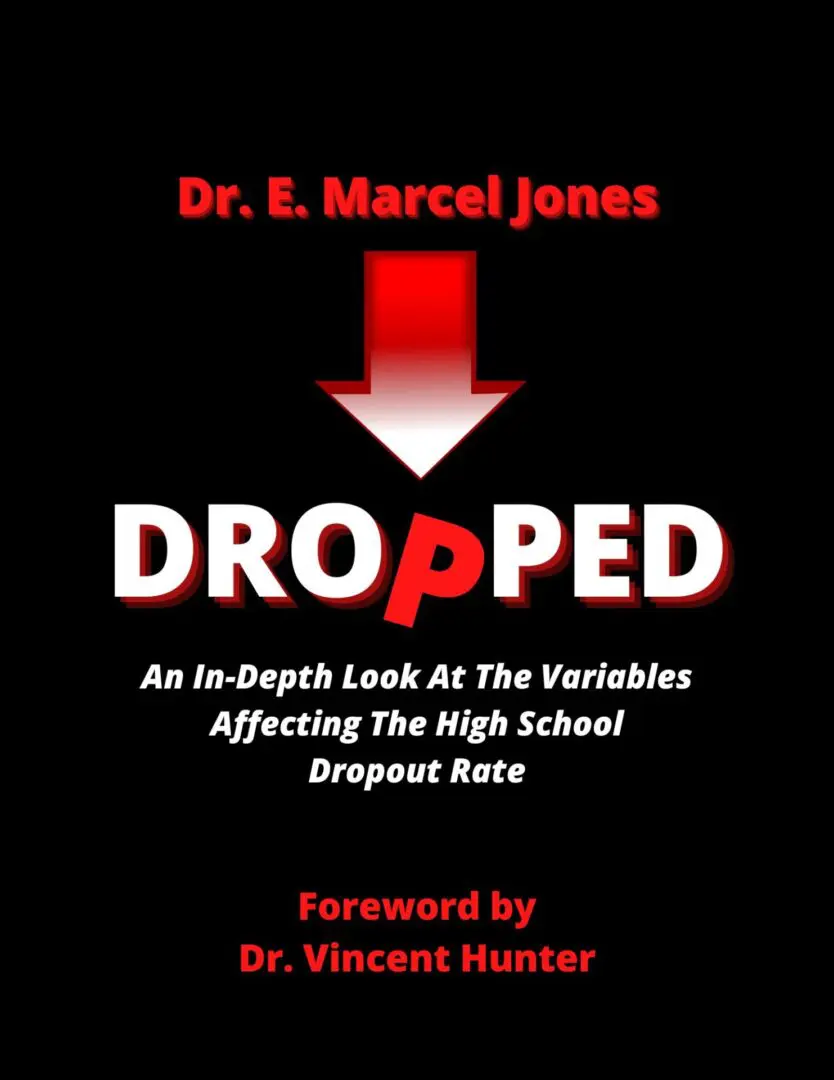 One of the most critical issues prevalent in America's educational system is the high school dropout rate (Barton, 2005).  The problem of school dropouts is widespread among most of the nation's school districts (Christenson & Thurlow, 2004).  Over 50 years ago, Conant (1961) wrote that America was allowing "social dynamite" to accumulate in its most populated areas of the nation.  In these areas of our nation, the dropout rates are alarming and are partially the result of several predictor variables!  DROPPED was designed to research the relationship between these dropout variables and the race and gender of high school students.  Although educators cannot change many of these variables, they can use the research contained in DROPPED to implement changes.  Perhaps, there is an opportunity to create effective prevention and intervention initiatives in order to decrease dropout rates in the years to come.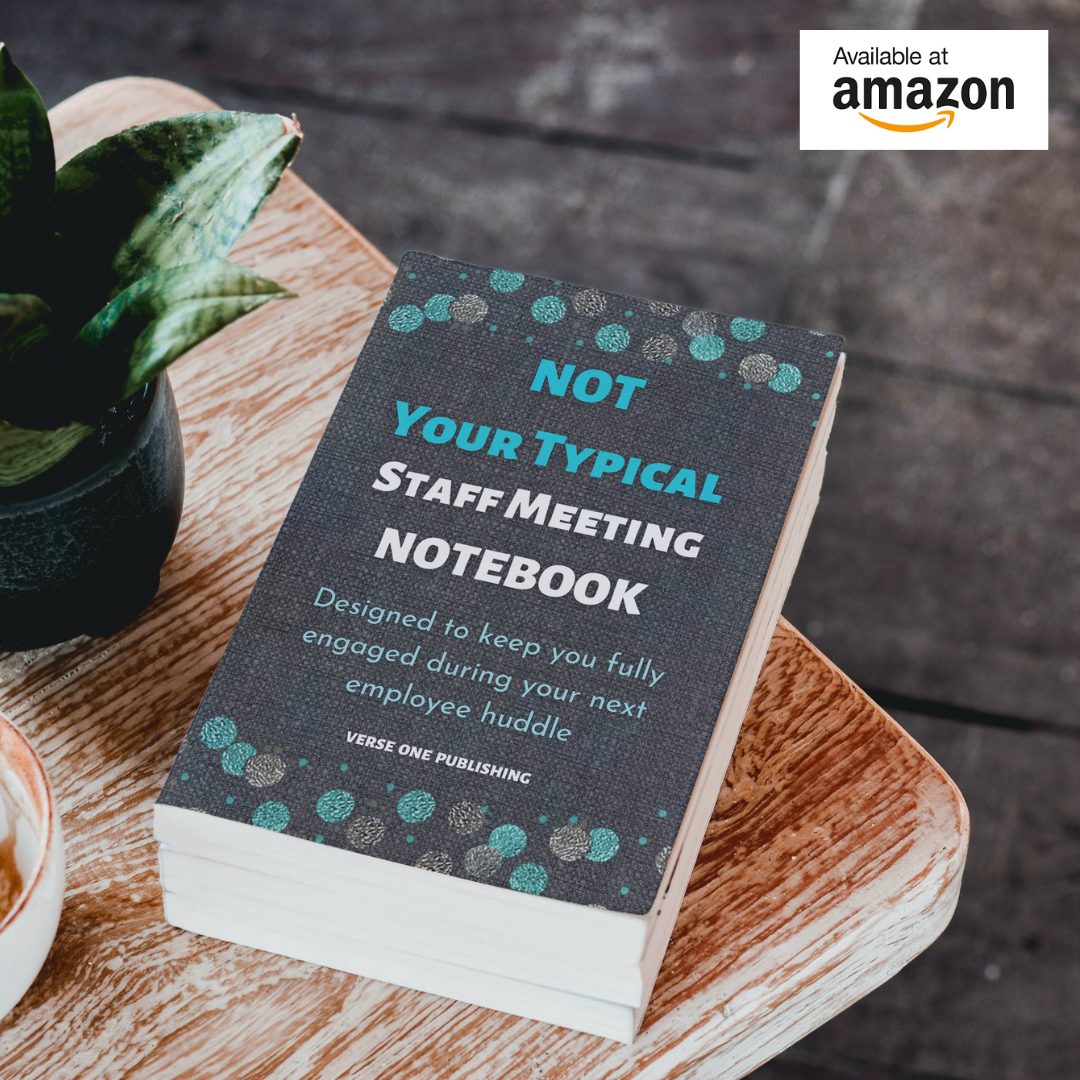 It's 9:30 a.m. and your boss just called the team to another hour-long, boring staff meeting. But, office huddles don't have to be boring. The NOT YOUR TYPICAL STAFF MEETING NOTEBOOK provides one place to record the morning agenda, important notes to remember, actions steps to take, and even have enough space left over to Doodle and Daydream. Order your copy today — just in time for next week's staff meeting!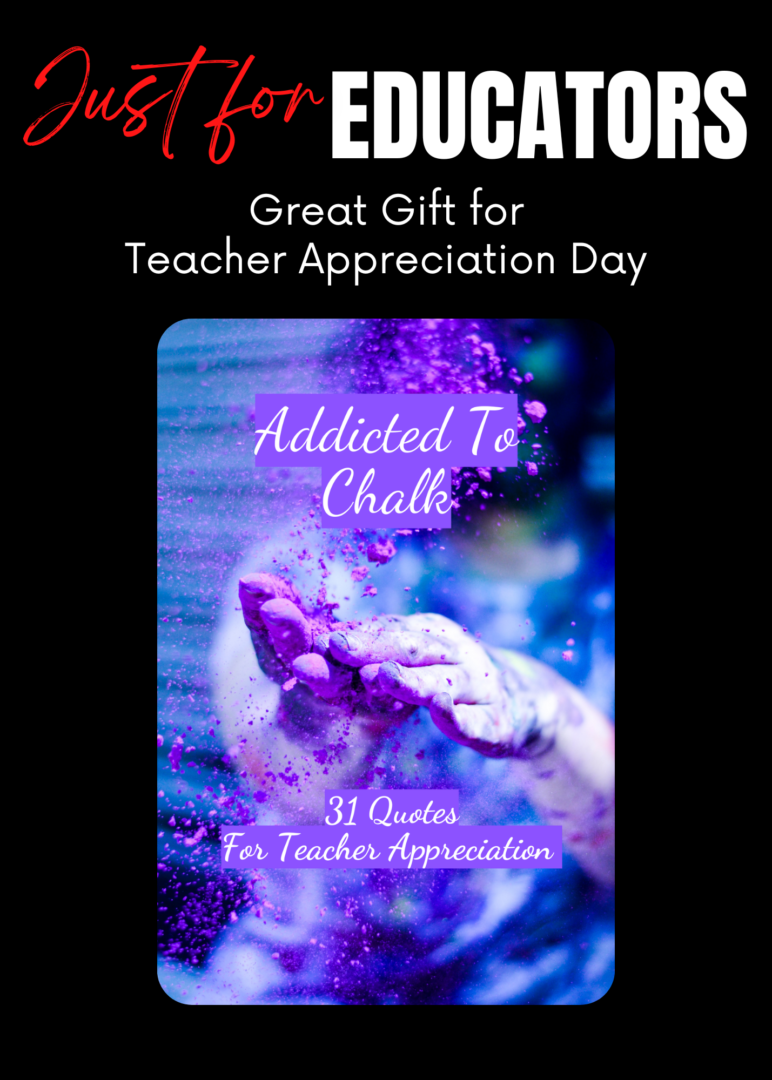 ADDICTED TO CHALK
31 Quotes For Teacher Appreciation
The ideal pick me up for the teacher who inspires your child to be great!  Addicted To Chalk has created the perfect inspirational book full of motivational quotes and space for daily reflection.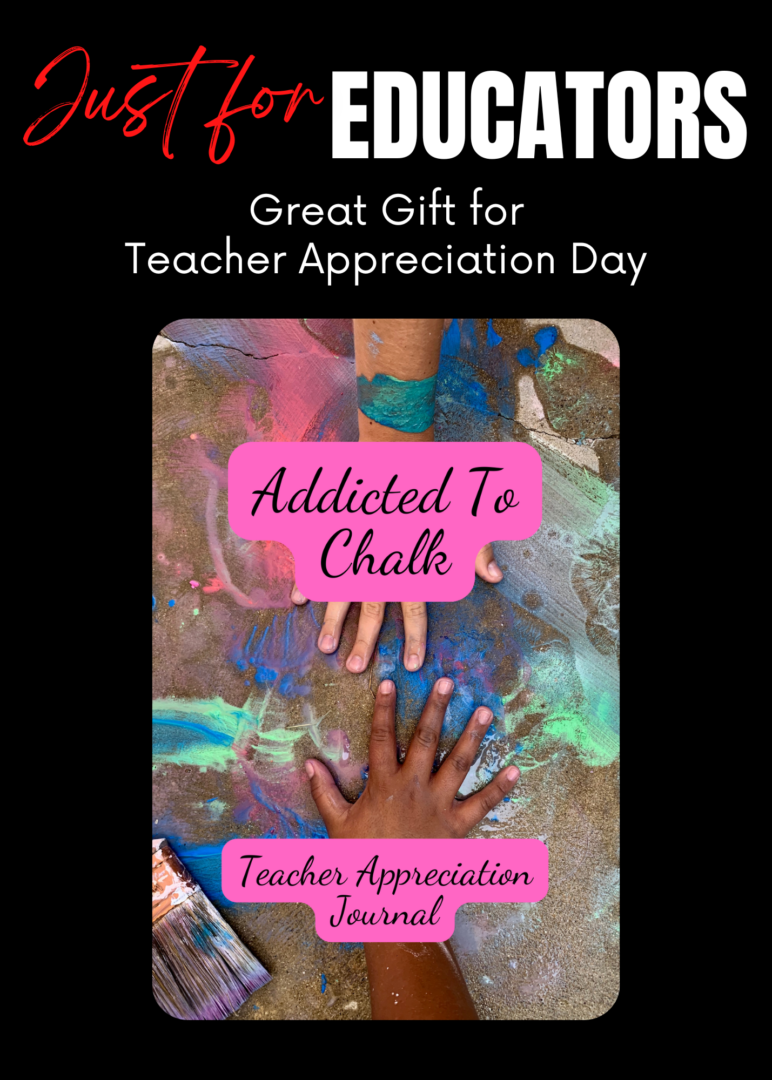 ADDICTED TO CHALK
Teacher Appreciation Journal
The Addicted To Chalk Series has inspired countless educators to be their best version of themselves in and outside the classroom.  And, this awesome journal is ideal for the incredible teacher in your life! Every teacher deserves a journal to keep his or her daily thoughts and reflections.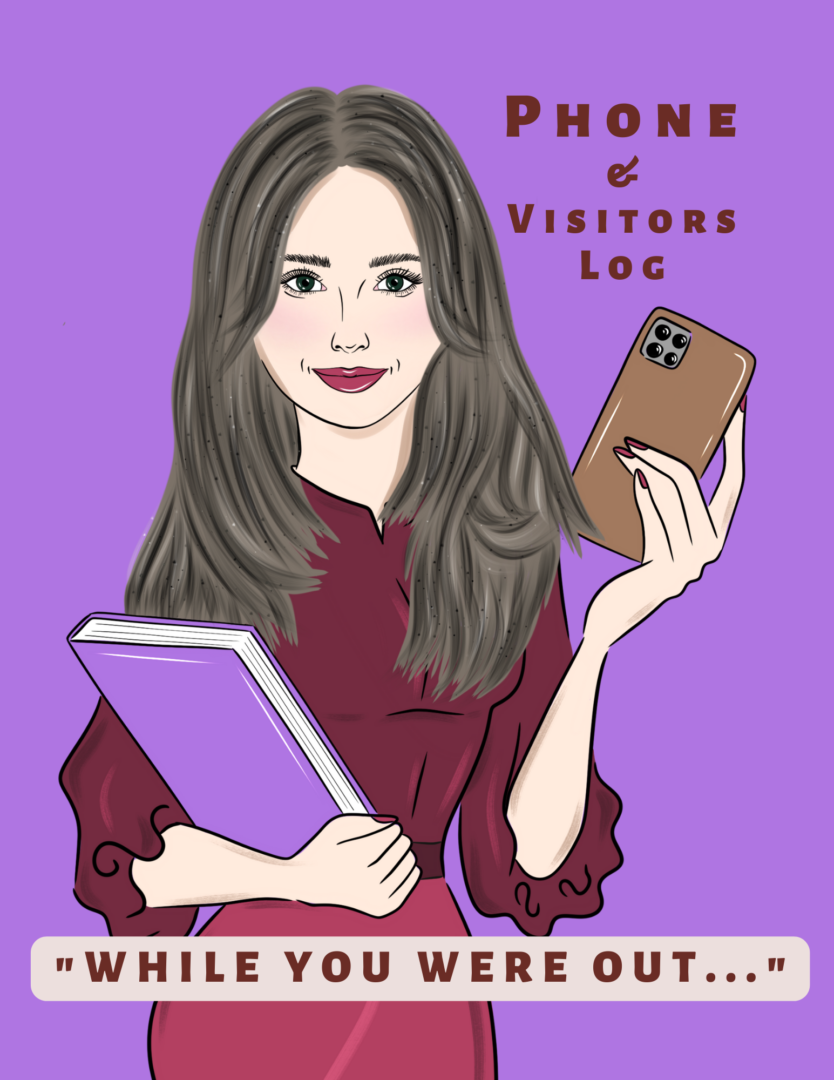 WHILE YOU WERE OUT: Phone & Visitors Log
No office or personal assistant can function properly without the use of organizational aids. Verse One Enterprises presents its newest design for the active business executive or busy business. It's a phone log and visitor sign in combined into one handy notebook. Now, all of your important contacts and messages can be housed in one location!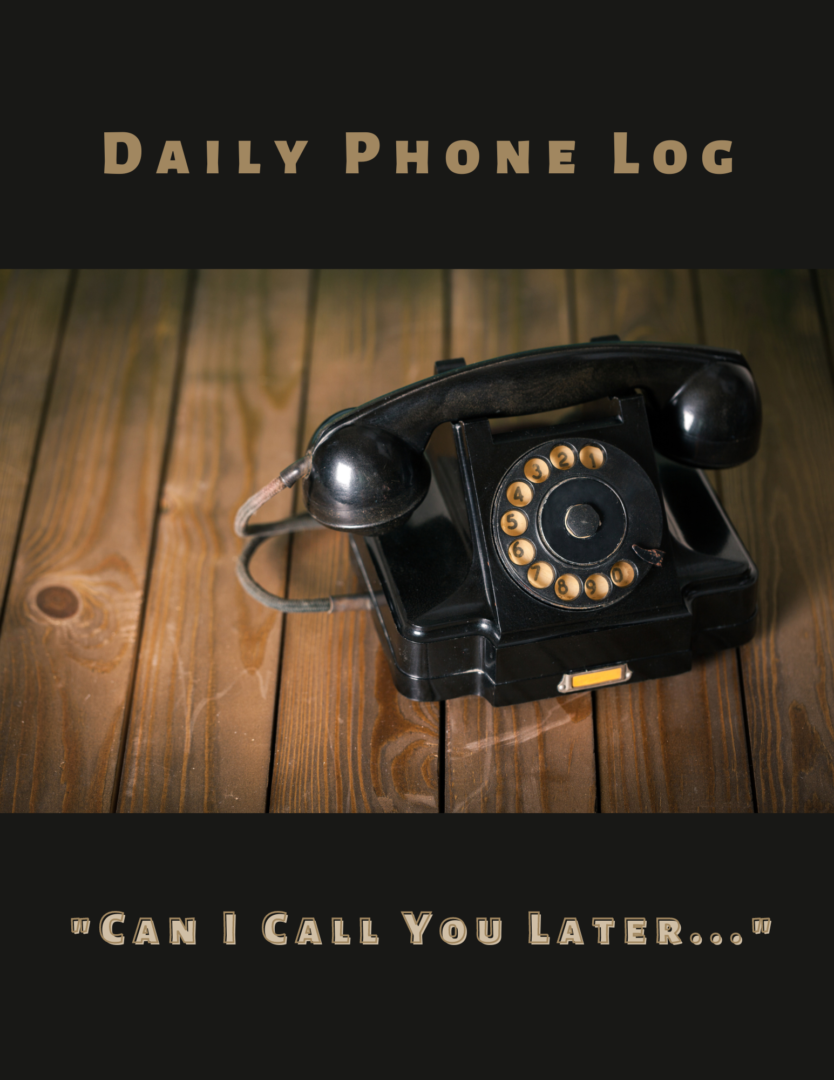 DAILY PHONE LOG
Can I Call You Later
Verse One Enterprises presents this awesome telephone message log that tracks incoming calls and messages so you don't miss any important events! Space to record over 700 calls, messages, and contact information. Ideal for offices, front desk reception areas, or for personal use.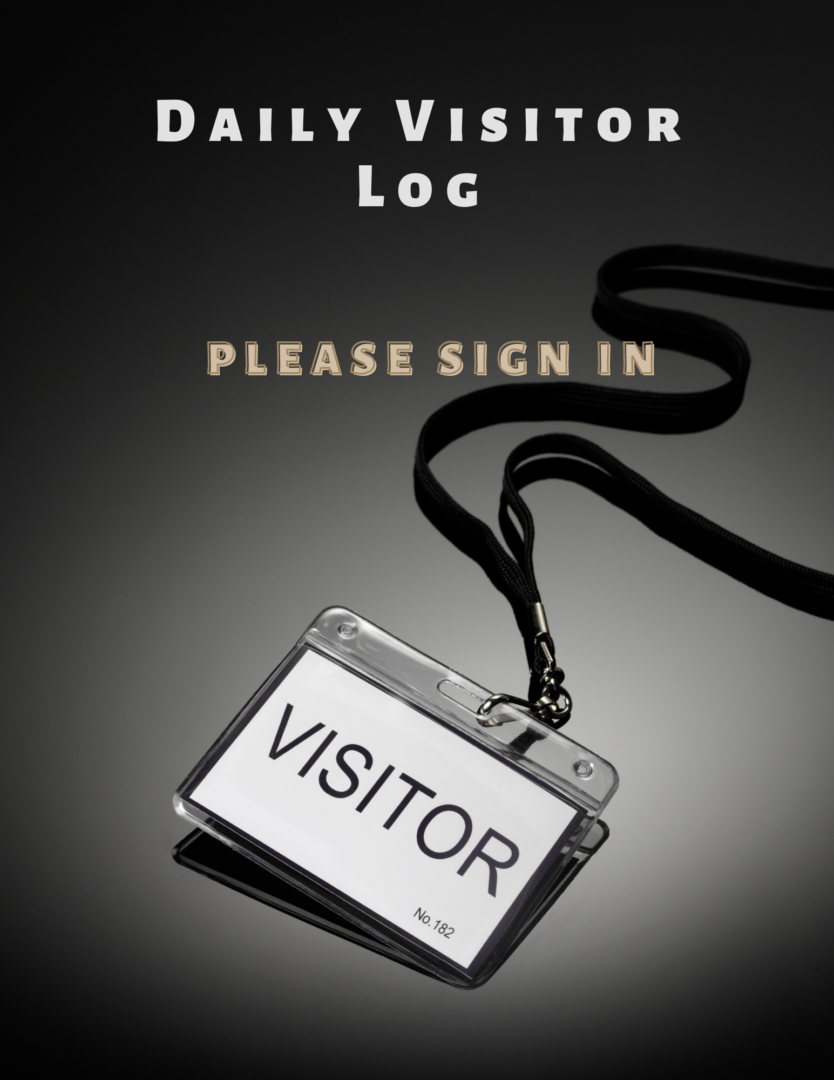 DAILY VISITOR LOG
Please Sign In
A great way to document the daily flow of traffic in and out of your office. Each page allows for 15 visitors to sign-in and record the nature of their visit. 120 pages is plenty of space to track up to 1,800 visitors.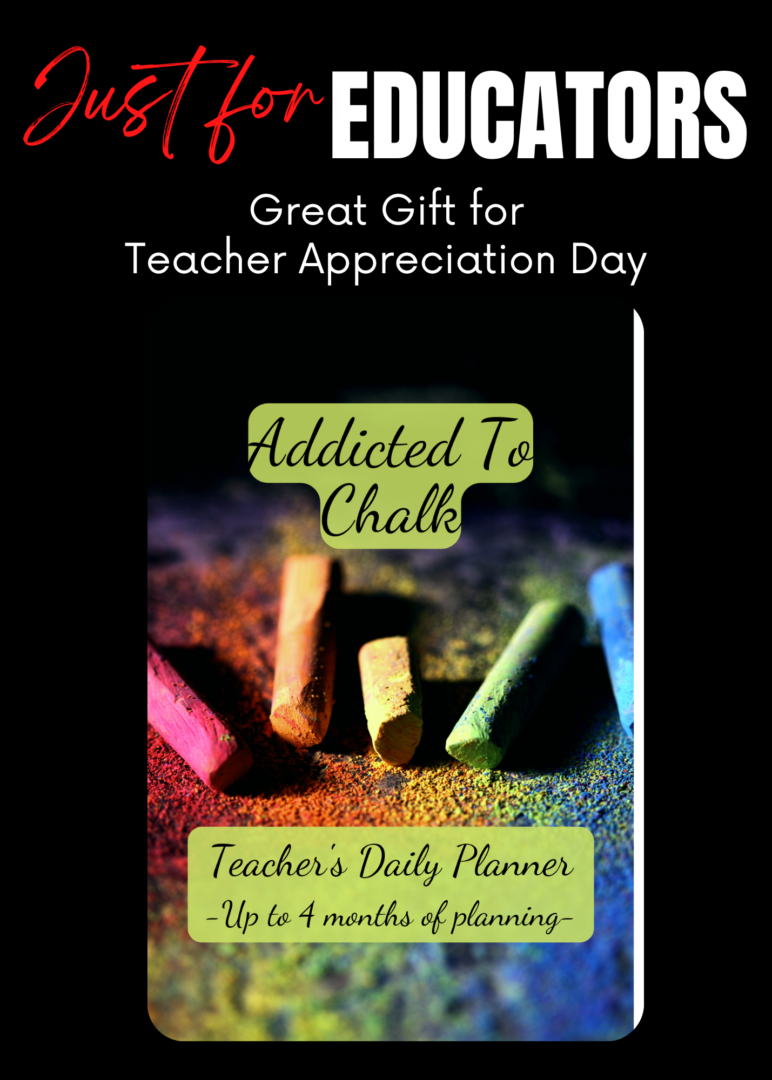 ADDICTED TO CHALK
Teacher's Daily Planner
With all that happens during the day, busy teachers need one place to track their daily tasks.  They spend hours planning the perfect lesson that will engage the entire class.  Now, show them how much you appreciate their hard work by gifting this personal four-month planning guide.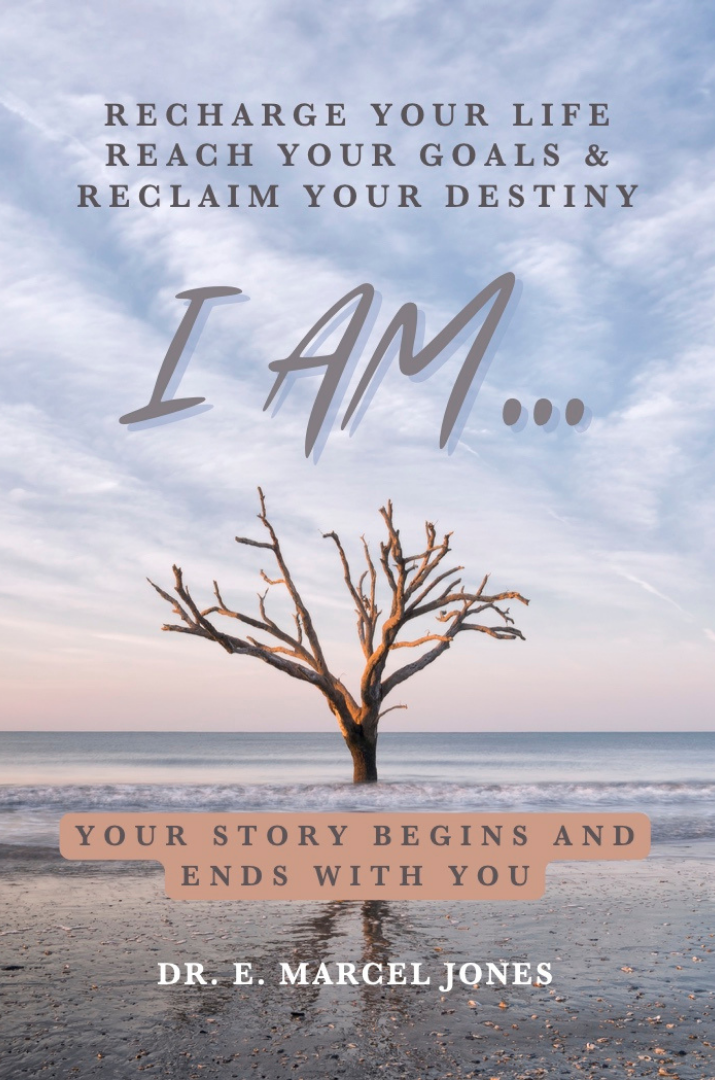 Today, you will begin your journey to a better, brighter, bolder version of yourself. I Am is designed to help you take ownership of all that's good, wholesome, productive, and positive about your life. Each page targets a trait within your soul that you may not have discovered or entertained in a while. Enjoy your journey and remember that your story begins and ends with YOU!
When a couple calls it "quits" and ends their marriage, the divorce can leave them confused, hurt, and broken. The purpose of Life After Divorce is to guide the reader towards healing and the renewal of the mind, body, and soul. As readers work through thirty-one thought provoking questions, they will find the strength to live, laugh, and love once again.
Caring for loved ones is already a difficult task that requires love, emotional strength, and a sound mind. The Caretakers Notebook can assist with all of these by providing one place to track the progress of your loved one's health. Whether you're flying solo or coordinating shifts with family members, there needs to be ONE locale for all pertinent information regarding your loved one's care (medications, vital signs, meals, activities throughout the day, etc.). Having the right information in the right place is critical to the overall well-being of the patient. And, as an added bonus, each daily record is followed by a page that also reminds the CAREGIVER to take care of themselves.
Looking for a practice book for your early learners? In The Beginning is the ideal workbook for building handwriting skills, number tracing skills, and even coloring skills. Easy to follow directions and engaging graphics to keep your early learner interested and challenged.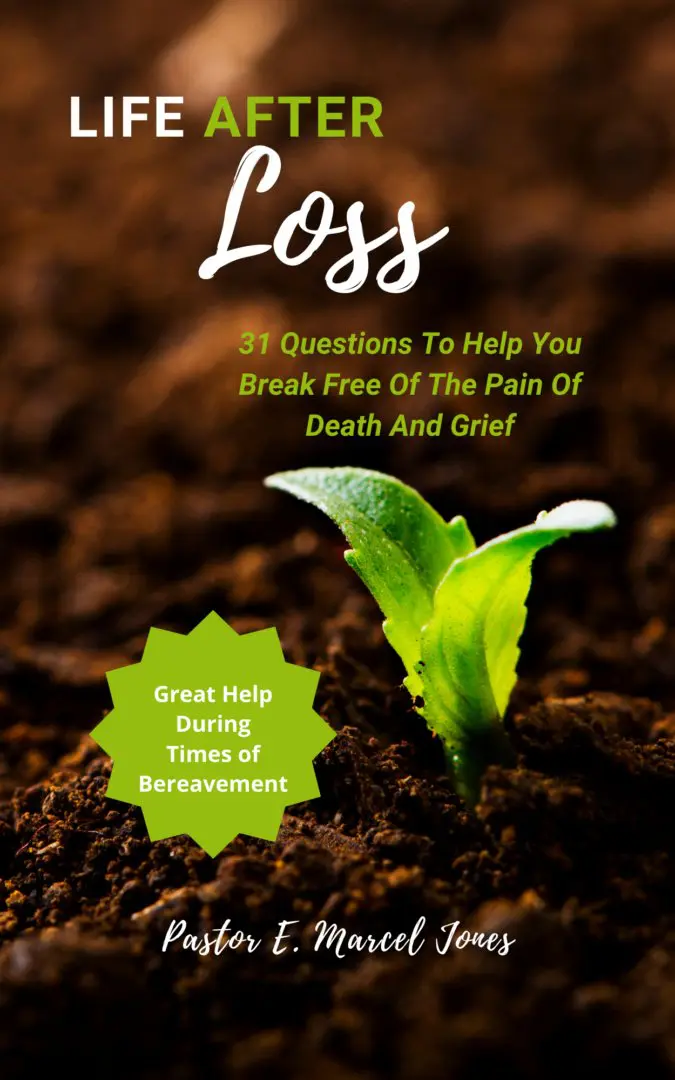 LIFE AFTER LOSS: 31 Questions To Help You Break Free Of The Pain Of Death And Grief
LIFE AFTER LOSS is the 3rd installment in the Life After Series.  Life After Loss is not a quick read but a journey from grief to acceptance, aimed at helping the bereaved recover after losing a loved one.  Each page navigates through 31 thought-provoking questions intended to challenge the mind, comfort the heart, and encourage the spirit.  A must have for anyone who desires to live, love, and laugh again.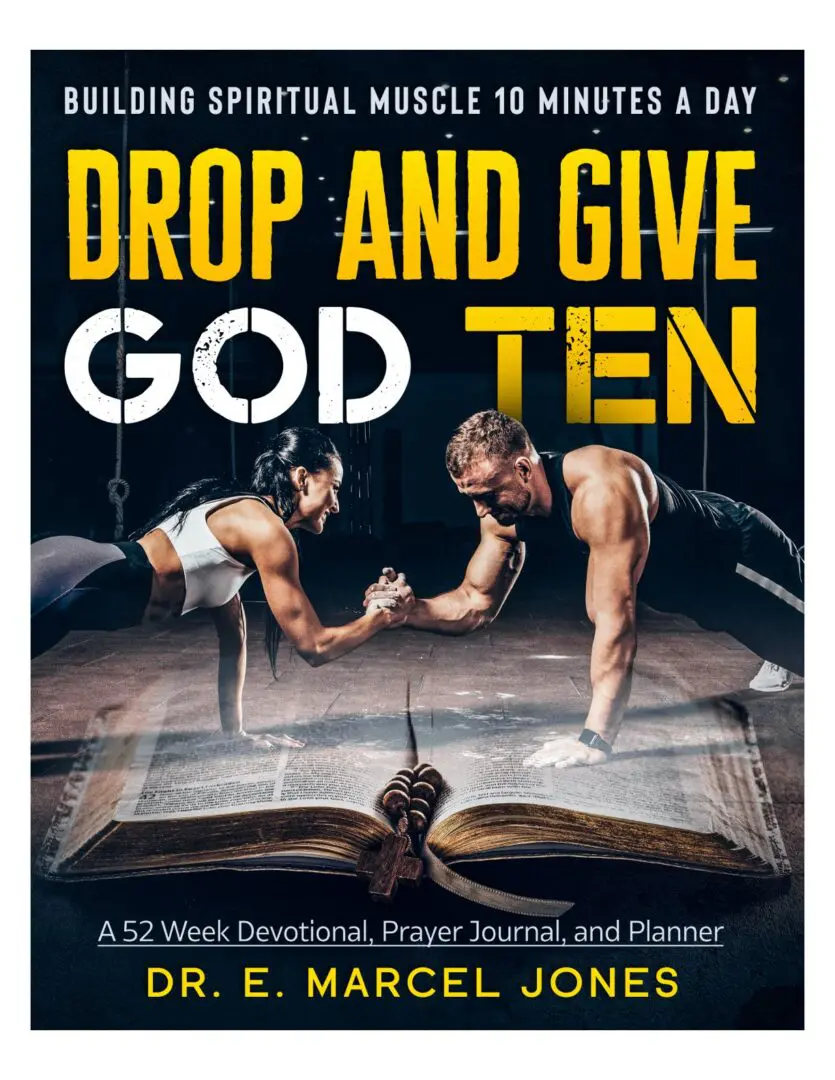 Are you struggling to overcome anxiety, depression, or grief?  Have you lost your zest and passion for the Word of God?  There is hope in God's Word.  God desires to spend more time with you and fill you with his wisdom, strength, love, and His Spirit.
Isaiah 40:29
29 He gives strength to the weary
    and increases the power of the weak.

With so many demands upon our lives, we neglect our spiritual man and often fail to invest in ourselves!  Drop and Give God Ten is your personal fitness trainer created to whip your spirit in shape in 52 weeks.  Each weekly devotion is designed to transform your spiritual body and create a stronger, wiser, and bolder you.
If you can spare just 10 minutes a day for the next 52 weeks, you will be amazed how this all-in-one prayer journal/devotional/and planner can transform your spiritual walk.  Get ready to experience new mercy, renewed strength, and greater power!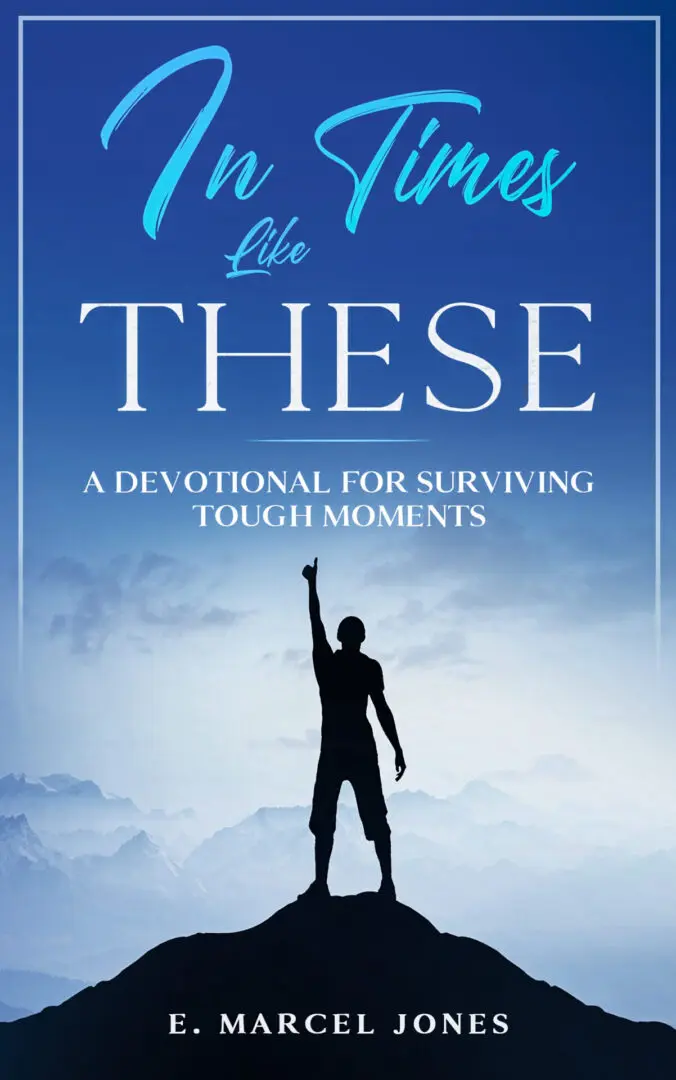 Tough times never last, but tough people do! During tough times, people search for answers to their problems and relief for their hardships. In Times Like These is a short devotional and prayer journal specifically designed to inspire strength and hope during tough moments in life. Whether it's a struggle with depression, disease, disappointment, death, or debt, In Times Like These reminds us all that, during these rough patches in life, we still need God.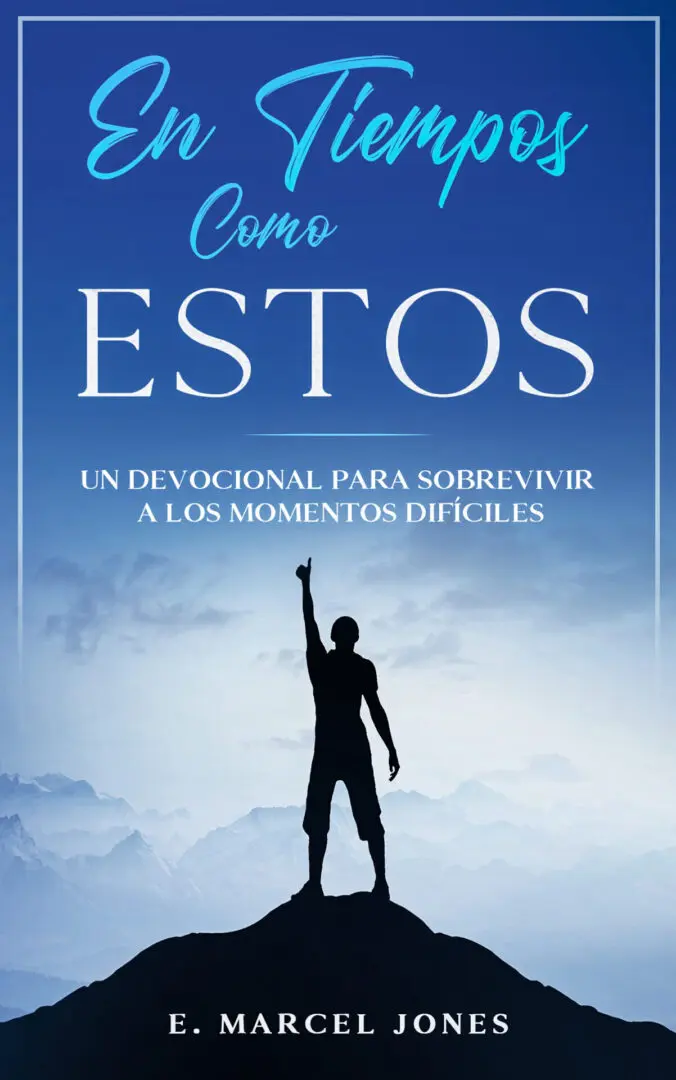 Los tiemposdifícilesnuncaduran, ¡pero la gente dura sí! Durante tiemposdifíciles, la gentebuscarespuestas a sus problemas y alivio para sus dificultades. Entiemposcomoestos es un breve devocionaldiseñadoespecíficamente para inspirarfuerza y esperanzadurantetiemposdifíciles.
Todo lo que una vezsupimos ha cambiado y siguecambiando a raíz de la pandemia de COVID-19 y las innumerablesprotestassociales que estamosviviendo. Sin embargo, duranteestostiempos de inquietud e incertidumbre, Dios no se ha rendido con nosotros y Jesucristosiguesiendo el Señor. Nuestrotiempopermaneceen manos de Dios.
El Dr. E. Marcel Jones escribióestedevocional para inspiraresperanza y fuerzaenaquellos que de repente se encuentranen medio de una tormenta. Cadacapítulo y cadadevociónestándiseñados para fortalecer la fe de aquellos que enfrentandesafíos que nuncaesperaron. EnTiemposcomoestosnosrecuerda a todos que, durante los momentosdifíciles de la vida, todavíanecesitamos a Dios.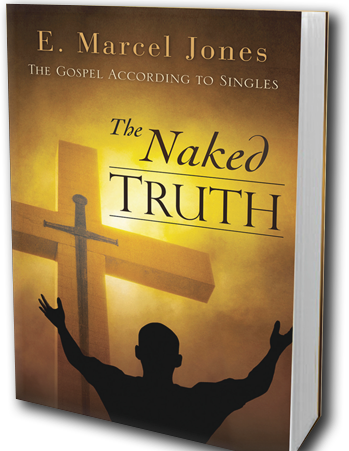 Finally, a book intended for every SINGLE believer - engaged, widowed, divorced, or dating. The time has come for Singles to know THE NAKED TRUTH! Christian writing phenomenon, E. Marcel Jones, addresses his personal struggles with relationships, sexual temptations, and a host of worldly issues while attempting to maintain his Christian values as a single man of God.
He also captures the candid experiences and subsequent spiritual revelations of singles in search of purposeful living and healthy relationships. Readers will find his writing refreshing, innovative, and personable.
"E. Marcel Jones' new book The Naked Truth is a treasure chest full of wit and wisdom on the upheavals and struggles of 'living single.'  Jones' real-life stories, his own struggles, and experiences are profound...yet revealing his skills as a prolific writer. This new and rising author is worth watching and his book a must read especially for singles and singles' ministry groups." - Bonnie Oliver Brandon, M. DIV, M.A.R. Connecting Leader, National Baptist Women in Ministry (BWIM) Atlanta, GA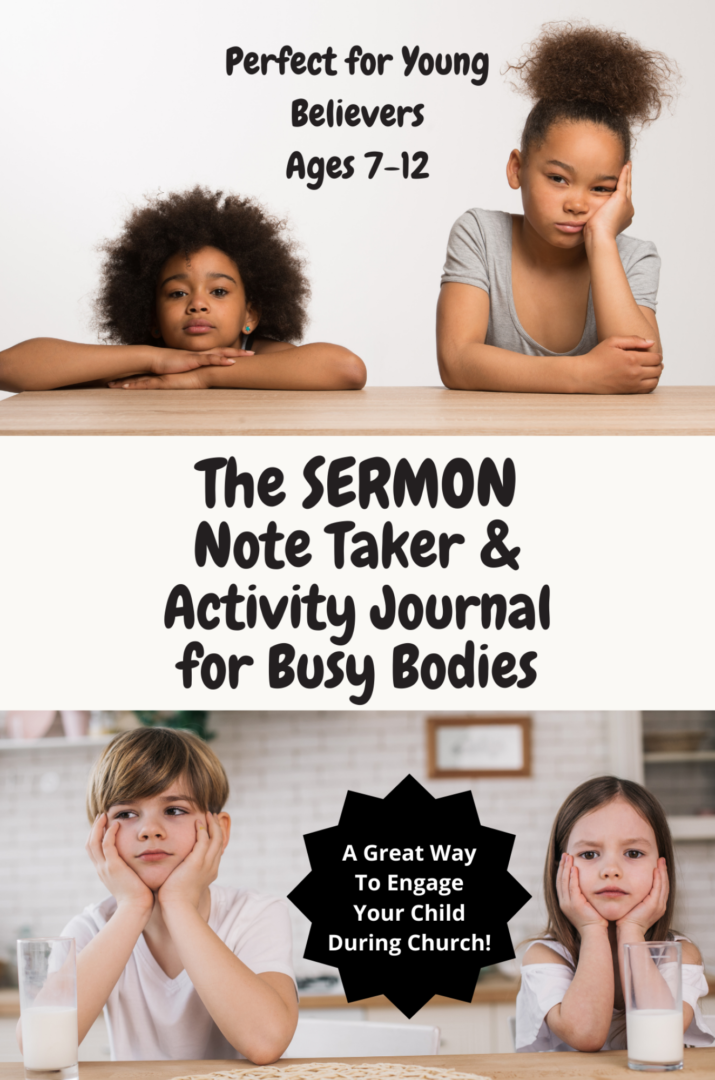 The Sermon Note Taker and Activity Journal For Busy Bodies: The perfect way to engage 7-12 year olds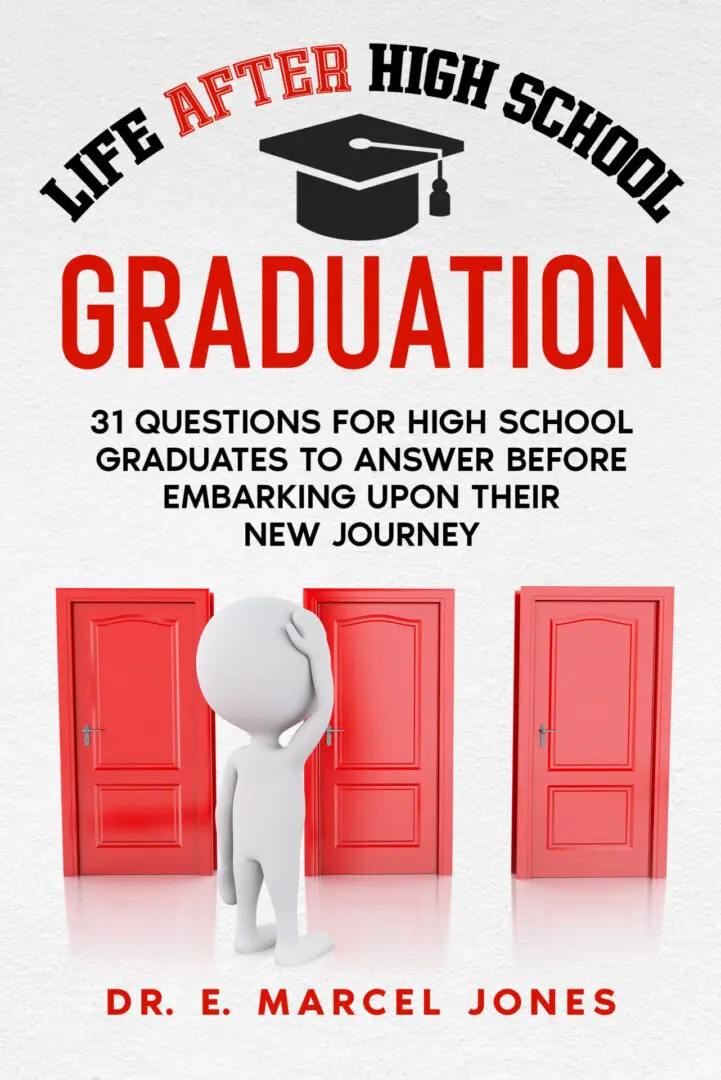 Life After High School Graduation
High school seniors have so many questions and receive tons of advice from family, friends, and teachers. But, few have stopped to ask them what they really want out of life? LIFE AFTER HIGH SCHOOL GRADUATION tackles the tough issues young adults might face in life. It's a compact book that is packed with 31 thought-provoking questions every graduating senior should consider before moving further in life. Plenty of journal space is provided after each question to allow room for even deeper reflection. Before embarking on new life as a young adult, every high school graduate should grab a copy of LIFE AFTER HIGH SCHOOL GRADUATION.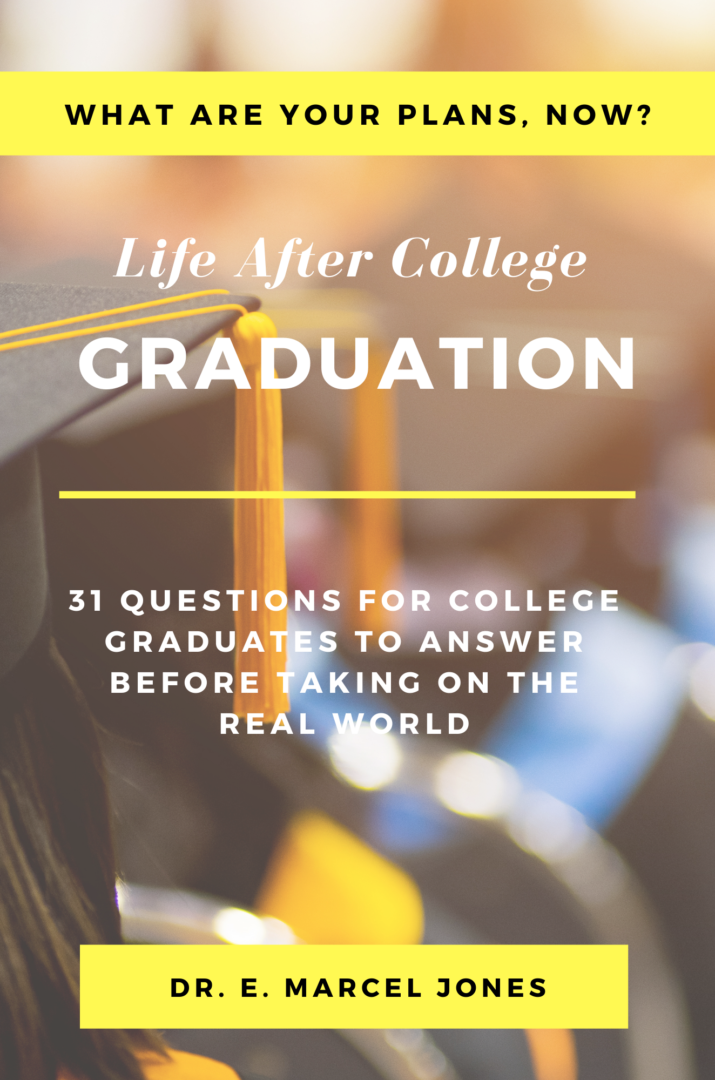 Life After College Graduation
31 Questions For College Graduates To Answer Before Taking On The Real World
College grads are ready to tackle life but often have tons of questions about life, countless options for careers, and tons of advice from family, friends, and professors.  LIFE AFTER COLLEGE GRADUATION helps tackle some of the tough issues they might face.  It's a compact book that is packed with 31 thought-provoking questions that must be addressed before moving further in life.  Plenty of journal space is provided after each question to allow room for even deeper reflection.  Before embarking upon a new life in the real world, every college graduate should grab a copy of LIFE AFTER COLLEGE GRADUATION.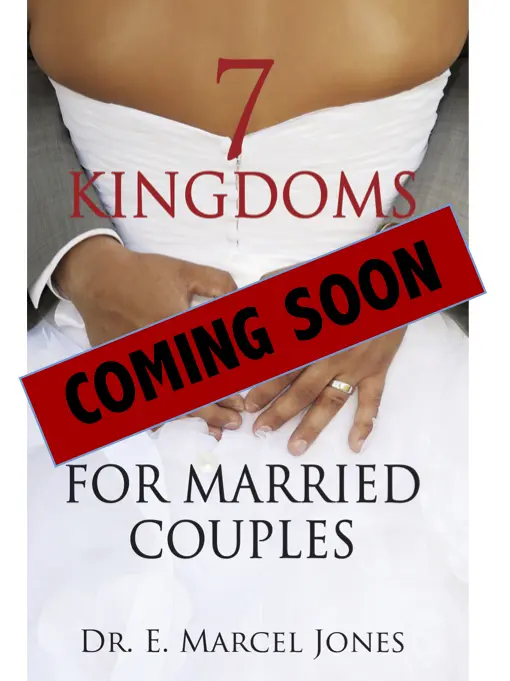 Are you enjoying or enduring your marriage?
With divorce rates on the rise, it is apparent that not all couples are living happily ever after. In Seven Kingdoms for Married Couples, you will discover why some marriages seem to thrive under the gravest circumstances while others crumble under the same pressure. Author E. Marcel Jones will reveal how couples should establish, maintain, and even grow their marriage in the areas of:
Unlike any other self-help book you've ever read, Seven Kingdoms for Married Couples will lead you on a spiritual journey towards a better you and, consequently, a stronger relationship. You will simply enjoy the fusion of humor, practical ideas, and scriptural support that the author offers in each chapter. Before heading to divorce court or even before you promise to say "I Do", allow your soul to consume the revelatory message of Seven Kingdoms for Married Couples.
Book Signing and Singles Conference for The Naked Truth
I'm still Standing, Sermon
He's making me new, Sermon
I'm breaking up with my past, Sermon
Listen for the Whistle, Sermon